Indigenous News
Updates and Reminders
March 2022
Upcoming Events and Important Dates
Virtual Family Gatherings
Many thanks to the families who joined us for our virtual gatherings this winter. It was a pleasure to reconnect with those who were part of the gatherings last year and to welcome new families to our virtual circle. We're grateful for the conversation, the ideas shared and the feedback on work that's happening throughout the Division. We look forward to seeing you all again next school year—hopefully in person at some point!
If there's anything stemming from the gatherings you wish to discuss, please reach out to the lead teacher at your child's school or someone from the First Nations, Métis and Inuit Education team directly:
Planning for the 2022- 23 School Year
March and April are busy times for school lead teachers and the First Nations, Métis and Inuit Education team as planning begins for next school year. Lead teachers and the team reflect on the successes and challenges of the past year, and the hopes for 2022-23. If you have ideas or feedback for your child's school or the Division in general, please reach out to the lead teacher or connect with the First Nations, Métis and Inuit Education team.
Treaty 6 and Métis Nation Flag Raising | June 13
If you've driven by EIPS Central Services recently, you may have noticed the addition of two new flag poles. As a further commitment on the path of truth telling toward reconciliation, and as an affirmation as Treaty partners, EIPS will be raising the Treaty 6 and Métis Nation flag on June 13. Each school in the Division will also display the two flags and are busy planning staff professional development and student learning experiences to understand the significance of each flag. More information on the Central Services ceremony and the specific events at each school will be shared in the near future.
Opening of Central Services Land-based Learning Space | June 21
EIPS has been working closely with Elder WIlson Bearhead to design and build a land-based learning space at EIPS Central Services. With spring on its way, construction will resume on the space. As part of Indigenous Peoples' Day on June 21, EIPS will officially open the space, honour our ongoing relationship with Elder Wilson and affirm our commitment to deepen our relationship with the land that sustains us. We'll share details of the opening event as the date draws closer.
​Booking Elders, Knowledge Holders, and Community Presenters
We are still working with Finance on finalizing the payment process for when you are inviting in Elders, Knowledge Holders and Community Presenters. We will send that out to everyone once it is completed. In the meantime, please keep us in the loop when reaching out to Felice (Métis Alive) and/or Goota (Inuit Connection) to book them and we can provide support with any protocols, payment information, etc.  If you're interested in booking George (Cree Constellations), please reach out to us directly and we will work with you and George to coordinate a visit. By involving us in the process, we will be able to help ensure protocols are in place and the visit is memorable for you, your students, and your guest.
·         Métis artist and storyteller
·         Connie Kulhavy is excited to reconnect with our Division schools!  She does artist in residence programs, beading programs, dancing programs and much more! If you are interested in booking Connie, please reach out to the team for her contact information.  
·         Virtual Family Gatherings
·         We will be hosting our virtual family gatherings again this Winter for parents/guardians of self-identified students.  In January, we will send more information with dates and log in instructions to join the gatherings.  We will also include this information in our January lead teacher message.
·         Blanket Exercise Edu-kit Update
·         We have updated the Blanket Exercise in the Edu-kits.  You will notice there is only one script version labelled grade 5 - 12.  We have focused on the key events so that the experience can be done in a reasonable amount of time and the students still receive the big ideas.  There is still a two person and a three person script.  If you have any questions, please reach out.  We appreciate any feedback from the new scripts as well.  Remember that you can also invite Jeremy to help facilitate the exercise at your school.
​Professional Development
Sign up for Royal Alberta Museum's quarterly Educator Newsletter.  Be the first to hear about upcoming RAM school programs and PD sessions! 
Click on this link, enter your information, and select "Educator Updates" to be added to the list for our quarterly updates.  
Click here to check out the September edition. The next newsletter will hit your inbox in January.
Resources
·         Artist Issac Murdoch from Serpent River First Nation has launched an amazing new, extensive online teaching and learning experience!  There are three separate learning clusters- earth, water, and space.  In each cluster, there are teaching resources, animations, interactive activities, art projects and so much more!  Activities support all subject areas, including math (the Lessons from Beyond has heavy math and science content- NASA was a partner on this cluster). Check out this new, FREE, fabulous resource here.
Inspire your classroom learning and student art by visiting Royal Alberta Museum's feature exhibition, Breathe, online! It features artists' reflections on the global pandemic and its impact on each artist as an Indigenous Person. 
o    Do the Work! Experiences Canada Youth Forum on Allyship will explore social justice topics as well as develop allyship and advocacy skills among youth. This winter, Experiences Canada is partnering with seven amazing organizations to deliver a series of seven bi-weekly webinars and workshops for 50 youth, aged 14-18.
Selected topics will include:
·         Reconciliation
·         Mental Health
·         LGBTQ2+
·         Environmental Racism
·         Disability Justice
·         Islamophobia
·         Social Media Impacts.
Youth who complete the full webinar series will be invited to travel to Winnipeg to attend a 3-day in-person National Forum on Allyship from May 6-8, 2022. In Winnipeg, they will have the opportunity to work collaboratively to produce their own podcast on youth allyship and/or advocacy.
This program will provide Canadian youth with an opportunity to further their education about social justice issues within Canada and develop their allyship and advocacy competencies – all of which they will be able to use throughout the rest of their lives.
For more information about the forum and to apply, visit forums.experiencescanada.ca. 
·         To register, please follow the link to complete the Google Form: https://forms.gle/B8zvMaRMhwga92sW7
Lunch and Learn: Indigenous Education Resources

WHEN: Monday, January 31st, 12:30 to 1:30 WHERE: Virtual session with ATA Executive Staff Officer, Indigenous Education, Melissa Purcell. The link to the session will be shared with participants and schools closer to the date. Please register so that we can send support packages to you before the session.

forms.gle
We wish you all a wonderful month of December and wish you a restful and relaxing break. We look forward to continuing this important work in the new year. Take care and please let us know if there's anything you need or if you have any questions.
Traditional Skills School

Outdoor Classroom
Our Outdoor Classroom is located at the back of Lakeland Ridge School.  It is a place for students, staff and community members to gather to enjoy land-based learning.  Special thank you to our Councillor Dave Anderson and Strathcona County.
Please check it out!
Treaty 6 Mural
We have installed a new mural in the front entryway of the school.  The purpose of the mural is to acknowledge and increase awareness of Treaty 6 territory in our school.
Grade Two Music Video Release
The students in grade two held a special event at Lakeland Ridge on March 21st.  They created a music video inspired by the Jerry Cans.  The Jerry Cans are a band from Iqaluit who sing a variety of music including "The Northern Lights" which is a mix of folk music and throat singing.
Congratulations grade two students!
Click here to view the music video!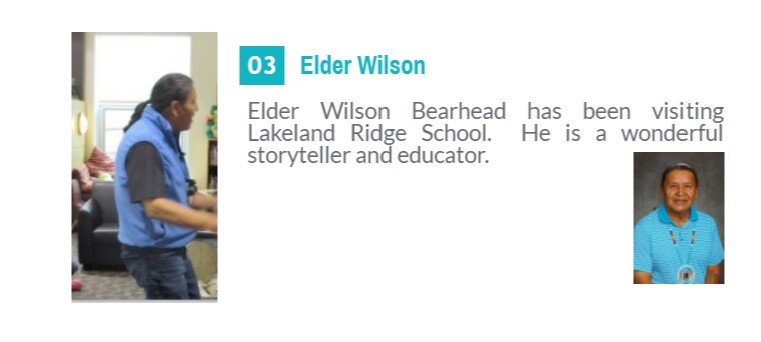 Past News
November 2021
Indigenous Veterans Day | Monday, November 8
See the Resources of Interest below for a list of possible resources.
Métis Nation of Alberta (MNA) Engagement Sessions - Sherwood Park/Fort Saskatchewan | November 9, 5-9 p.m.

Make your voice heard at the Otipemisiwak Métis Government Constitution gathering for Métis citizens in the Fort Saskatchewan and Sherwood Park area on November 9. No previous knowledge or expertise needed! All area MNA citizens aged 16 and older are welcome and encouraged to join in, listen, learn and give feedback. "Our ancestors fought and died for the freedom to live as Otipemisiwak, to own ourselves. Now's our time to realize their dream and choose the right path for our people." Register
Rock Your Mocs | November 14-20
Rock Your Mocs Day is November 15. Wear your moccasins with pride on this day and every day!
Métis Week | November 14-21
Métis Nation of Alberta and Rupertsland Institute have been creating resources for Métis Week 2021. Resources for schools and families are available through Rupertsland Institute's RECC Room. Create a free account and gain access to the webinar and a vast collection of Métis resources you can access with your family at home—including archived recordings of Métis artist Leah Dorion sharing stories and art projects and the new art series with Angie Hall.
Direct Student Support
Is your child in Grade 12 and looking to move on to post-secondary education? There are a variety of scholarships, bursaries and grants available to First Nations, Métis and Inuit students to attend trade school, college or university. Talk to your child's lead teacher for more information or support in filling out applications.
MNA Resources From skills courses to wellness kits, discover all the MNA Youth Services has to offer free to all Métis ages 12-29. The Métis Nation of Alberta (MNA) has a variety of other family support services, including health, housing and entrepreneurship.
Study Help for Métis students Rupertsland Institute has secured access to Alberta ExamBank for K-12 Métis students to test their understanding through online practice. Métis students can sign up for the RECC Room to find the login for their MNA Region. Questions? Contact education@rupertsland.org.
Jordan's Principle Learn more about Jordan's Principle and the funding supports available for First Nations children—visit the Assembly of First Nations and Government of Canada resources.
Questions? Have questions about your child's learning? Please reach out to the First Nations, Métis and Inuit Education lead teacher at your child's school. We're here to engage with you and offer supports to students. Harlee McArthur, EIPS First Nations, Métis and Inuit Family School Liaison Worker, is also available for conversation and to offer supports to children and families.
Resources of Interest
Indigenous Veterans Day
Here are some possible resources to learn more about First Nations, Métis and Inuit veterans.
Global TV Story
In September, Global National was at Glen Allan Elementary filming for a story for their current affairs TV show, "The New Reality." Various people were involved in the filming including Glen Allan students and teachers along with Elder Wilson Bearhead and Superintendent Mark Liguori. Thank you to Glen Allan for hosting and making everyone feel welcome. The segment aired on Global's "The New Reality" program on October 30. If you missed it, you can watch the video or read the online piece.
The U of A Faculty of Native Studies is offering online courses that can be taken by university students or community members. Two winter semester courses that may be of interest are "Indigenous Peoples & Technoscience" and "Countering Stereotypes of Indigenous Peoples."
Interested in learning about Indigenous sports role models with your family in a COVID-safe, online format? An invitation to you from our friends at Roots of Resilience.
We're so excited to be back at it for a second year of speakers series kicking off with the fall series "Indspired Through Sports," providing an opportunity to celebrate Indigenous resilience and success. You may wish to register for the remaining online sessions.
This speakers series will feature six incredible Indigenous athletes with different sports and backgrounds. From Bullriding to Dance we'll hear of their motivations, their setbacks and what pushes them to continue to strive for greatness. This series is going to be a great opportunity for students to get a look into what these professional athletes have gone through to get to where they are today and give a new outlook at the many possibilities sports can open up to youth! The series will also help teachers and adults see first-hand the importance of sports as an avenue to responsibility and success.
Upcoming speakers and dates:
November 4: Mathew Rathbone (Hockey)

November 12: Sonya Dodginghorse (Barrel Racing)

November 18: Angie Lightning (the importance of sports for youth)
Tickets are available online (one price for the whole family).